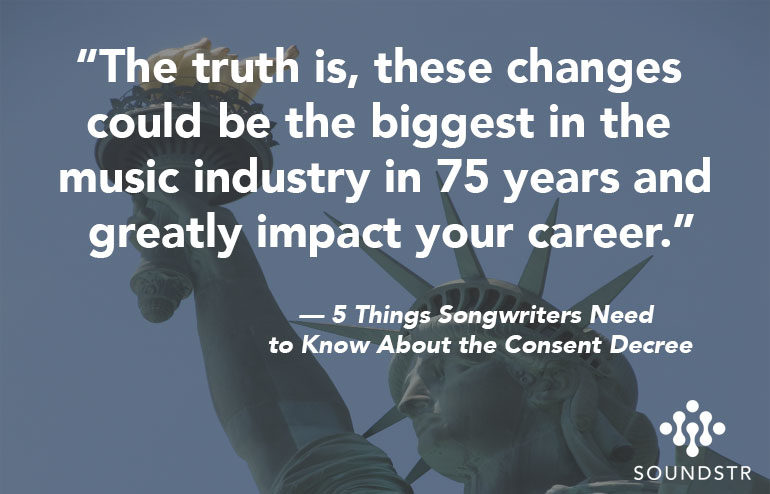 ---
What is the Consent Decree, and why are people talking (and so upset!) about it?
While the music industry can seem glamorous, it does have its "unsexy" parts just like any other business sector. For songwriters, one of the least discussed (yet most important topics) is music licensing. But major changes to the consent decree – the federal agreement that governs how ASCAP and BMI operate – is bringing this topic to the surface.
The truth is, these changes could be the biggest in the music industry in 75 years and greatly impact your career.
So while this might seem like a complex topic now, we're here to break it down for you. First off, if you are not familiar with Performing Rights Organizations (ASCAP, BMI, SESAC and GMR, "PROs"), read this now. If you are familiar with the PROs and what they do, keep reading. The Consent Decree decisions will impact songwriters, licensors and more. Pretty much everyone in our industry, to a certain degree.
1. Consent Decree History
ASCAP and BMI, both of who are non-profit companies, (voluntarily) entered into Consent Decrees with the Department of Justice in 1941. The goal of the agreements was to prevent these two companies from acting monopolistic and regulate how they operate. SESAC and GMR, which are for-profit, are not bound by this agreement. (For a full history of the PROs, click here.) The Department of Justice reviews (and sometimes amends) the Consent Decree every few years to adapt to a changing industry and technology. The proposed updates would be one of the biggest changes to the consent decrees since it was first filed over 75 years ago. (The last changes to the consent decrees were in 1994 for BMI and 2001 for ASCAP.)
2. Decision #1: No Partial Withdraw
There are two major decisions proposed by the Department of Justice for the Consent Decree. The first is no partial withdraw. This means that publishers either have to be "all-in" or "all-out" with PROs. Music publishers, with the assistance of the PROs have been asking the DOJ to update the Consent Decrees to allow for partial withdraw. Publishers want the ability to do direct license deals with music licensors for performing rights. In this case, they want to do direct license deals with Digital Services Providers (DSPs) such as Spotify, Pandora, etc. On December 18, 2013, a federal judge ruled that this was not allowed in a case with Pandora and BMI. (A different judge had a similar ruling with Pandora and ASCAP on September 17, 2013.) Yet, shortly thereafter, the publishers went direct to the (digital) source to negotiate better rates, cutting out the PROs as the middleman. This left the PROs to collect on behalf of radio, TV and broadcast/live performances – not digital. The DOJ chose not to update the Consent Decrees to allow for partial withdraw. This means publishers either have to use the PROs to collect on behalf of all mediums, including digital or none at all. If publishers want better rates with Spotify and Pandora, they will also need direct deals in all other mediums. This includes every radio station, TV network, retail store, and live music venue. Publishers would have more work on the admin/collection side, but it might lead to a higher payout for them and their associated songwriters.
3. Decision #2: 100% Licensing
The second major decision is called, "100% licensing." This gives a songwriter with any ownership on a song, even as little as 1%, the right to license the entire song on behalf of all other songwriters. Further, that same song can only be licensed once to a given music licensor. Anyone from the lead songwriter down to the producer that gets a few songwriting credits could license the song. Considering that many co-writers do not share the same PRO, this could lead to several messy scenarios. This is a stark departure from the "fractional" licensing model that the industry currently uses. Fractional licensing means PROs only license their share of a song. In a fractional licensing world, the songwriter (or PRO) with 1% ownership is only able to license their portion. In a 100% Licensing world, when ASCAP licenses a music venue, but only controls 1% of a song, that venue no longer needs to also obtain a license from BMI for that same song. ASCAP must license the full 100% of the song and account back to BMI.
4. Short Term Impact
The immediate responses to these proposed changes have not been positive. The CEOs of both ASCAP and BMI have responded, stating their "disappointment" in the DoJ. Other music industry execs have shared this sentiment. The consensus around the short-term impact focuses on the negativity of these rulings. With rate shopping, 100% licensing could devalue the price of music. Licensors will likely be on the hunt for the lowest rate, which could drive down revenues. No partial withdrawal could lead to publishers opting out of the PRO system. Instead of a business needing four PRO licenses, they may now need those four, plus licenses from each of the many publishers.
5. Long Term Implications
There are a few implications to consider from these major changes. For better or worse, 100% licensing could lead to a "fixed rate" for music within our industry. This is a long shot, but a fixed rate could help build value (or further devalue) the price of music depending on your perspective. 100% licensing could also place heavy restrictions on the co-writing market. Songwriters may only be able to work with co-writers within their PRO or publisher's roster. This could lead to a lack of hit songs or more diversity, depending on where you (subjectively) stand. If you're not already aware, most pop songs have several co-writers, as showcased by popular memes.
The biggest potential change could be from the "No Partial Withdraw" ruling. The most contributions against this ruling have come from the PROs, as they should fear this shift. If the DSPs are willing to offer publishers better rates through direct deals or publishers think they can license these services more efficiently by eliminating PRO services fees, this might lead to the end of the current PRO model. With ASCAP and BMI's expenses totaling $260M+ in 2015, this money could flow back into the system. This would require the publishers to have direct deals with all radio, TV, background and live music users. It might sound like a stretch, but consider how it could work. Music users would utilize recognition technology to identify all commercial music. A global marketplace could work as an exchange to license and distribute royalties. One organization offering transparency behind rate structures could solve many problems. Businesses would pay fees based on actual music usage. Songwriters could receive compensation for the commercial use of their music. Transparency would allow the industry to fully "Follow The Dollar."
It might sound like a stretch, and again it's all speculation for now. So much more is likely to happen in the coming months. The PROs and Publishers must respond to the DOJ by the end of July. Lawsuits will likely ensue. Decisions will be delayed as everyone lawyers up and weighs their options. Extremes like ASCAP and BMI merging may actually be considered, despite antitrust lawsuits. The Consent Decrees may even be done away with. Publishers may withdraw from PROs. No one ultimately knows.
Regardless of the final ruling on the Consent Decree, we now live in a world where music data is essential. Data impacts everything from songwriting/publishing splits to PRO registration and real world music usage. More overall transparency will be necessary to follow the dollar and understand the true value of music. Songwriters need to pay close attention to this case, as the outcome could have a great affect on their career.
Songwriters – click below to sign up for FREE music recognition services.